Bosom Buddy Bags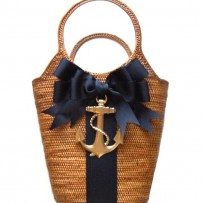 Each Bosom Buddy Bag is handcrafted one at a time.
The bags are woven by Master weavers of the Tenganan region, using Ata grass, a vine indigenous to the foothills of volcanoes on the Indonesian Island of Bali. This art form is handed down through the generations and is unique to Indoneasia. The bags are not made in a factory, the artists work from home in their villages. Bags can take up to 4 weeks to complete. The warm golden honey color of the Ata grass develops naturally from slow smoking over fire of coconut husks soaked in honey . The resultant aroma is your assurance of authenticity.

Working from their Baltimore studio, the Bosom Buddy Bag design team hand adorn the Balinese ata grass bags with ribbons, jewelry, gold plated findings, natural sea shells and vintage elements. Subtle differences in adornments and ribbons are what makes each Bosom Buddy Bag extraordinary.
Bosom Buddy Bags has diversified to bring you evening, clutches and tote style fabric bags that are chic and fashion forward. These bags are not made in Indonesia, however they are each still hand adorned one at a time in the Baltimore Studio.Each Bosom Buddy Bag is made by hand. Some variation is to be expected and is what makes each bag unique.