Mary Frances Bags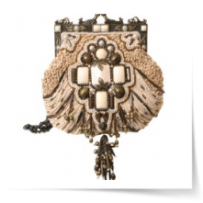 Mary Frances' motivation is to provide objects of pure beauty at an accessible price point. Mary Frances Accessories has experienced exponential growth over the years – establishing the Mary Frances label as a widely recognized brand.
Mary Frances is passionate about what she does and knows what her customer is looking for: unique, quality accessories that express their personality and individual style. Primarily inspired by fabrics, textures and unique combinations of materials and colors, Mary Frances integrates but is NOT defined by reviews and/or trends, in- turn creating a look that is all her own. The fan base of the Mary Frances collection is as varied as her handbags: we've heard from collectors owning anywhere from 30 to more than 100 Mary Frances bags; there are Mary Frances fan clubs; and Mary Frances designs can be seen on the arms of celebrities such as Oprah Winfrey, Teri Hatcher, Kate Hudson and Jennifer Anniston, just to name a few.
It's been with a sense of gratitude and privilege that Mary Frances has spent the last 23 years providing unique and beautiful handbags for women all over the world to enjoy. Not surprisingly, she's off and running creating new looks and trends for all to enjoy!