About Us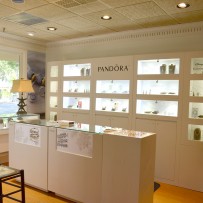 The Blue Parrot is celebrating 13 years in business in Hilton Head, and moved from the Mall to The Village at Wexford in 2011.
Filled with everything from paintings and sculpture to jewelry and fine craftwork, you will find you are welcomed into a place that evokes the casual, Lowcountry lifestyle.
The Blue Parrot Fine Gifts is Hilton Head's only Pandora Shop-In-Shop offering a complete line of Pandora jewelry and charms. That distinction is reserved for only a handful of jewelry retailers. For collectors and fans, selecting the stunning silver, gold and glass beads that are used to create unique bracelets and necklaces can become an obsession.
Looking for a guy thing? Handsome weathervanes and birdfeeders designed for indoors or out, vivid artwork of Savannah, Charleston, Beaufort and Daufuskie Island, magnificent Tide Clocks in all shapes and sizes, Goat Island wooden boxes from Charleston, interesting Books, are all at The Blue Parrot. Make it a point to visit The Blue Parrot Fine Gifts whether you are on vacation or an Island resident…..you won't be disappointed!